In this article
What is Doinn?
Doinn is a web application allowing you to buy high quality cleaning, linen rental and concierge services for your bookings and properties.
The goals of Doinn are to help you save time by delegating cleaning and concierge services, help you provide a great experience to your guests, and help you manage all those services from one centralised place.
From your Doinn account, you will be able to see all your rentals and ongoing bookings, and buy services for any of them. You can also customise services to your needs, by giving specific instructions for each booking or rental.
Main things to consider before starting to use Doinn
• Location
Doinn is only available in some specific locations, in France, Portugal and Spain.
Cleaning services are currently available in France (Paris, Bordeaux, Lille, Lyon, Nice, Nantes, Strasbourg, Toulon, Toulouse), Portugal (Lisbon, Porto, Almada, Ericeira, Setubal, Sintra, Monte Gordo, Lagos, Portimão, Sagres e Alvor, Pera, Loule, Albufeira, Vilamoura, Olhos de Agua, Armação de Pera, Santa Luzia, que faz Olhão, Tavira, Cabanas, Monte Gordo) and Spain (Madrid, Barcelona).
Concierge services (check in/out) are currently available in Madrid, Lisbon, Paris, Barcelona, Porto and Algarve (Albufeira, Aljezur, Almada, Castro Marim, Faro, Lagoa, Lagos, Loulé, Olhão, Portimão, Silves, Sintra, Tavira, Vila do Bispo, Vila Real de Santo Antonio).
Doinn is developing the range of locations available, and new areas are planned to become available in the future, such as the UK.
• Cost
Using Doinn represents an additional costs, which depends on the services you buy and the location of your rentals. You can check their pricing policy to see the cost of each service.
Please note that having a Doinn account is free, and you won't be charged anything unless you purchase a service.
Set-up
Install the Doinn app available in our App Center, from the Apps section of your account.
Click on the Doinn app in the Apps section of your account. You will be redirected to the Doinn login page where you'll be able to log into your account. If don't have a Doinn account yet, you can create one by clicking "Don't Have An Account? Create One Here":

Once logged into your Doinn account, you need to connect it to your BookingSync account. To do so, click on your name on the top right corner, and go to Profile. Then, go to the Integrations tab, and click Activate under the BookingSync logo:

After clicking Activate, you'll be redirected to a BookingSync page asking you to authorise Doinn to access your account. Simply click Authorize to allow the sync between BookingSync and Doinn:

You will now see to a page in your Doinn account with a message confirming the connection:
The sync has now been established, and your rentals and bookings will be synchronised and appear in your Doinn account within 24 hours.
Sync between BookingSync and Doinn
The sync between BookingSync and Doinn is a 1-way sync. It means that all information are sent only from BookingSync to Doinn.
Doinn automatically syncs all rentals available in your BookingSync (included those unpublished), as well as ongoing and new bookings, booking updates and cancellations.
When doing the initial set-up, the sync delay is 24 hours.
After the initial set-up, Doinn syncs new data every hour. Thus, it can take up to 1 hour to see a new booking or a booking update appear on Doinn.
Rental deletions are not synced with Doinn. When deleting a rental in BookingSync, you need to manually delete it from your Doinn account.
Support
For all functional or technical questions, you can reach out to Doinn by using those contact information:
France: paula.branco@doinn.co | +33 (0) 9 80 08 47 30

Portugal: hello@doinn.co | +351 (0) 931 375 390
Spain: hola@doinn.co | +34 (0) 684 267 482
Related questions
• How do I disconnect Doinn from my BookingSync account?
You can stop the connection by going to Profile > Integrations and clicking Deactivate underneath the BookingSync logo: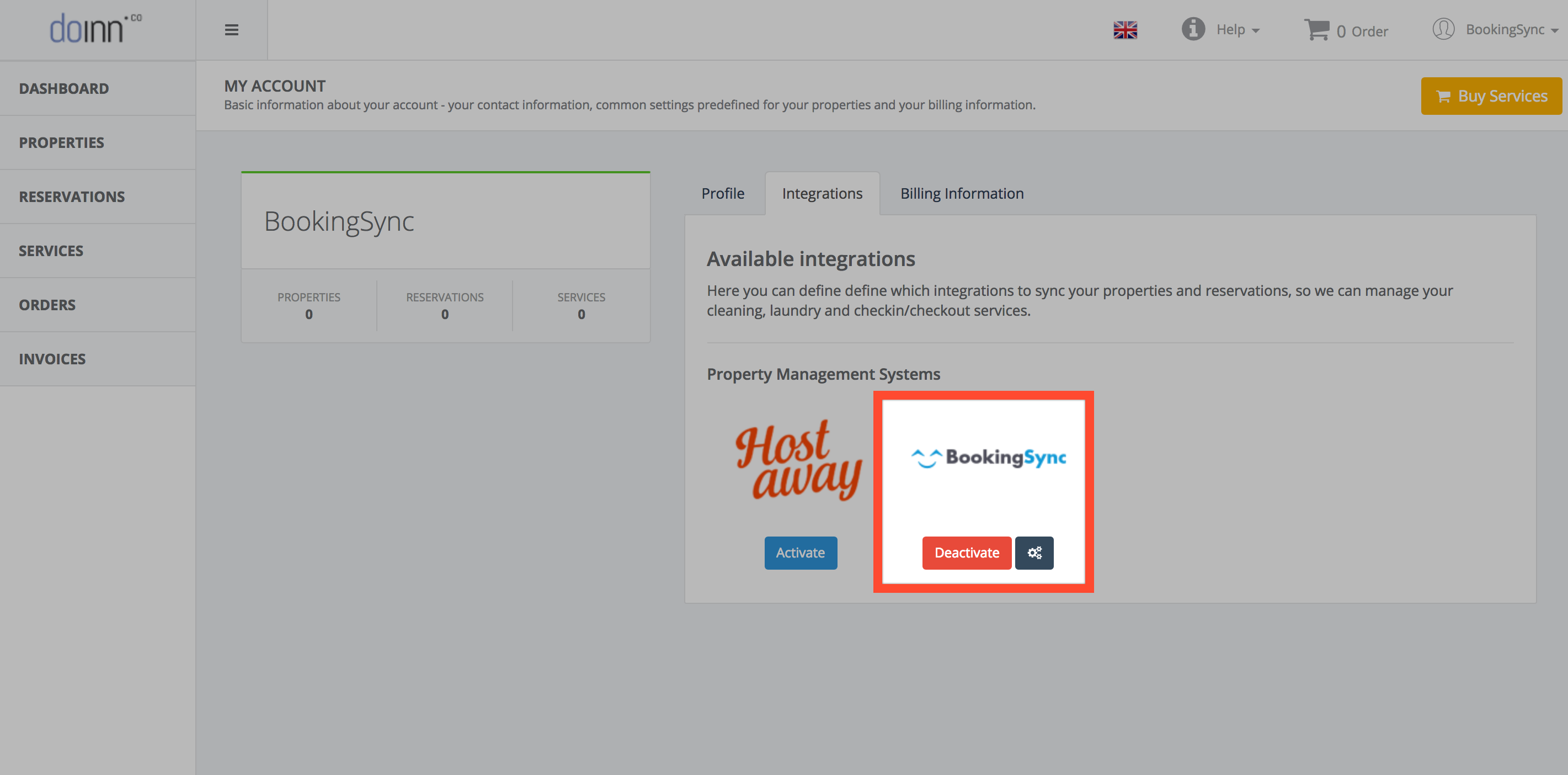 Please note that your rentals and bookings will not be deleted from your Doinn account, and will need to be deleted manually.
• I already have a Doinn account, how do I merge my existing properties and bookings with the corresponding ones in BookingSync?
Rentals and bookings available on both BookingSync and Doinn cannot be merged.
The best solution is to create a new Doinn account and sync it with BookingSync, and to stop using the previous Doinn account as soon as the services bought with that account are all completed.
• What happens if I have already paid for a service on Doinn, but the booking is modified in BookingSync?
If the booking update modifies the date and time of the service, the service will be kept or cancelled depending on the new price of the service.
For example, you have a booking from June 12 to 16, and buy a cleaning service for the 16th at a price of 30EUR. Later on, the booking is updated, and the check out date is now on the 17th.
If the cost of the service is the same (30EUR), the cleaning service is then moved to 17th.
However, if the cost of the service is different, the service is cancelled, Doinn immediately informs you by email, and you need to buy the service for the 17th, this time at the new price.
For any other question, please refer to Doinn's help section, or contact Doinn by phone or email.